Account Executive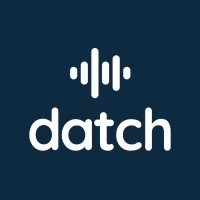 Datch
Sales & Business Development
Remote · United States
Posted on Friday, October 22, 2021
Datch is a voice AI for the industrial workforce. We work with an exciting array of global customers - including Fortune 500 manufacturers, energy providers and more - supplying them with an interactive natural language engine they can use with verbal, conversational dialogue. This allows frontline workers to talk through their day-to-day processes in real-time, leading to big improvements in knowledge retention and a more efficient, happier workforce.
Founded in a garage in 2017, Datch now has offices in the UK, US, and New Zealand. We're growing rapidly with backing from well-known investors such as Blue Bear Capital, Boeing HorizonX, Acceleprise, and Plug and Play Ventures, and we're building an exciting product with deep engineering and domain expertise.
We're looking for a proven sales professional with passion, tenacity, and experience closing enterprise deals with industrial companies.
About you (Your mindset / what you're looking for)
You're a generalist – able to apply your knowledge broadly and into unfamiliar territory
You're a self starter – can work on projects with ambiguous context
You thrive in a fast-moving and chaotic startup environment
You're excited to tackle hard and novel strategic problems
You empower your team to succeed
You're a world-class communicator with strong closing abilities
About the role (What you'll do)
As an early member of a growing commercial team, you will be working alongside both our CEO and Head of Sales to bring in new enterprise accounts and expand existing accounts in the manufacturing and aerospace sectors. You will be expected to:
Achieve & exceed quota targets by developing and executing a sales strategy for the manufacturing sector.
Become a trusted account advisor by establishing strong relationships with key stakeholders, from middle management through to C-Level, based on knowledge of customer requirements and a commitment to drive business value.
Follow a disciplined approach to maintaining a rolling pipeline of inbound and self-sourced leads.
Work with Sales, Marketing and channel partners to effectively build and prioritize the pipeline.
Support events and visit customers as required.
Manage and run large, complex sales deals and guide stakeholders through every aspect of the procurement process, from early contact through to close and adoption.
Assist when needed with prospecting for new customers, development of product presentations, and proposals.
Work closely with Customer Success to develop upsell opportunities.
Must-haves
Generalist – ability to apply your knowledge broadly in new environments
Experience in selling to manufacturing companies
Experience in selling disruptive or unproven tech to enterprise accounts
4+ years of experience in sales of complex business software, to a combination of new and existing business accounts
A track record (consistently achieving target objectives) of success with pipeline development and quota achievement
Ability to apply consultative and solution-based sales methodologies
Experience hitting quota of $1M+ of ARR per year
Must be a self-starter, team player and strategic thinker. Able to thrive in a fast-paced, often uncertain startup environment.
Highly organised and data-driven
Strong written and oral communication and collaboration skills, with fluent business-level English
Proficiency in Salesforce
Ability to travel regularly within the US and occasionally in Aus/NZ/Europe
Nice-to-haves
Early stage startup experience
An interest in and understanding of ML / AI impacts on the business world
An interest in and understanding of digital transformation
Multilingual abilities (European languages a plus)
You must be eligible to work in the United States (with a valid working Visa, Residency or Citizenship) to be successful in this application.
‍
We'd love to hear from you
Thank you! We'll be in touch :)
Oops! Something went wrong while submitting the form.