Sales Development Representative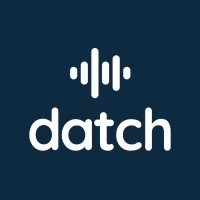 Datch
Sales & Business Development
Remote · United States
Posted on Monday, August 9, 2021
Datch is a voice AI for the industrial workforce. We work with an exciting array of global customers - including Fortune 500 manufacturers, energy providers and more - supplying them with an interactive natural language engine they can use with verbal, conversational dialogue. This allows frontline workers to talk through their day-to-day processes in real-time, leading to big improvements in knowledge retention and a more efficient, happier workforce.
Founded in a garage in 2017, Datch now has offices in the UK, US, and New Zealand. We're growing rapidly with backing from well-known investors such as Blue Bear Capital, Boeing HorizonX, Acceleprise, and Plug and Play Ventures, and we're building an exciting product with deep engineering and domain expertise.
Summary
We are looking for a Sales Development Representative (SDR) to join our team. You will be responsible for researching and communicating with our most promising leads, and your work will help shape the direction we take as a company, as you learn what our customers want, how they use our products, and how we can help them to achieve their goals.
Qualifications
Persistence, resilience, and some years' experience working in a sales or a sales-adjacent role. If you are new to sales, we would like to see experience that clearly speaks to your persistence, drive, and ambition to succeed in a process-driven field.
You are persuasive and influential, and you enjoy listening and understanding the people you're talking to, especially if what you're talking about is complicated.
You're quick to adapt, and you build value for your team members well. Often you do this with an analytical mind, processing qualitative and quantitative data from your surroundings to come to insightful conclusions.
You're trustworthy, and you will work hard to do what's right, both for the company and for your team.
You are highly organized and process-driven.
Responsibilities
Your role will be to research and communicate with our sales prospects. These potential customers will tell you what they need to understand about our Voice AI solution, and how it can help them accomplish their business and engineering responsibilities.
Your ultimate goal is to find these contacts and prepare them for a demo call with another member of the sales team. You will be the primary source of intelligence about the customer in these calls, and you will have to work hard to understand them and their needs, while discussing with them the value of what we do.
Your primary responsibility is to grow our customer pipeline in a predictable, process-oriented way, in order to increase the number of leads we speak to and the amount of business we close. We will set high expectations for you as a result, and work hard alongside you to achieve them.
You will need to become an expert in industrial practices, and be able to clearly communicate the role voice can play in frontline operations.
You will collaborate with a team of supportive colleagues, manage your own performance, and grow in both your role and your place in our team by learning and by having fun
What we offer
You will be working with a high performance team that cares for each other. You'll do some of your best work, you'll do it alongside the biggest enterprises in the world, and you'll have fun doing it as well!
We offer a competitive salary and early-stage equity, ownership of your career direction as the company grows, and excellent regular feedback alongside a candid coaching process.
‍
You must be eligible to work in the United States (with a valid working Visa, Residency or Citizenship) to be successful in this application.
‍
We'd love to hear from you
Thank you! We'll be in touch :)
Oops! Something went wrong while submitting the form.