Sales Engineer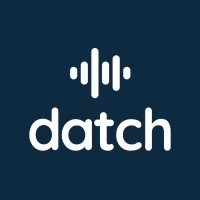 Datch
Sales & Business Development
Remote · United States
Posted on Friday, August 5, 2022
Datch is a voice AI for the industrial workforce. We work with an exciting array of global customers -including Fortune 500 manufacturers, energy providers and more - supplying them with an interactive natural language engine they can use with verbal, conversational dialogue. This allows frontline workers to talk through their day-to-day processes in real-time, leading to big improvements in knowledge retention and a more efficient, happier workforce.
Founded in a garage in 2017, Datch now has offices in the UK, US, and New Zealand. We're growing rapidly with backing from well-known investors such as Blackhorn Ventures, BlueBear Capital, Boeing HorizonX, and Plug and Play Ventures, and we're building an exciting product with deep engineering and domain expertise.
Summary
We are looking for a dedicated, ambitious and self-driven Sales Engineer. As a Sales Engineer, you will work closely with our Go-to-Market team to help drive revenue growth and ensure successful projects pre-implementation.
About You (Your mindset / What you're looking for)
You're a generalist – able to apply your knowledge broadly and into unfamiliar territory
You're tech-savvy, and you love to build
You're a self-starter – can work on projects with ambiguous context
You thrive in a fast-moving and chaotic startup environment
You're excited to tackle hard and novel strategic problems
You empower your team to succeed
You're a world-class communicator
About the role (What you'll do)
Facilitate voice process mapping and definition (pre and post-sales), allowing customers to best leverage Datch features for their specific applications
Understand the IT department organizational structure of large enterprise customers
Successfully meet technical objections
Build strong customer relationships, especially with key customer stakeholders
Manage customer expectations, deliverables, and timelines
Collaborate with sales to deliver appropriate sales proposals, pricing models, or scopes of work
Must-haves
A proven track record of sales engineering, IT project management, customer-facing solution architecture, or other relevant experience.
Experience in managing multiple stakeholders and projects
Customer-oriented personality, with strong interpersonal and communication skills
Critical thinker and problem-solving skills
4+ years of experience working alongside enterprises with complex business software
Must be a self-starter, team player and strategic thinker. Able to thrive in a fast-paced, often uncertain startup environment.
Highly organized and data-driven
Strong written and oral communication and collaboration skills, with fluent business-level English
Ability to travel within the US and occasionally in AUS/NZ/Europe
Experience with integrations for enterprise applications
Strong understanding of common API integration architectures (eg. Rest APIs)
Strong understanding of common enterprise authentication/authorization systems (SSO, Oauth, OIDC etc.)
Nice-to-haves
Early-stage startup experience
Degree in computer science or equivalent
Experience in using software for sales such as Salesforce CRM
Familiarity with software such as IBM Maximo, SAP, etc.
An interest in and understanding of ML / AI impacts on the business world
An interest in and understanding of digital transformation
Multilingual abilities (European languages a plus). You must be eligible to work in the United States (with a valid working Visa, Residency or Citizenship) to be successful in this application.
What we offer
You will be working with a high performance team that cares for each other. You'll do some of your best work, you'll do it alongside the biggest enterprises in the world, and you'll have fun doing it as well!
We offer a competitive salary and early-stage equity, ownership of your career direction as the company grows, and excellent regular feedback alongside a candid coaching process.
‍
You must be eligible to work in the United States (with a valid working Visa, Residency or Citizenship) to be successful in this application.
‍
We'd love to hear from you
Thank you! We'll be in touch :)
Oops! Something went wrong while submitting the form.